Our Story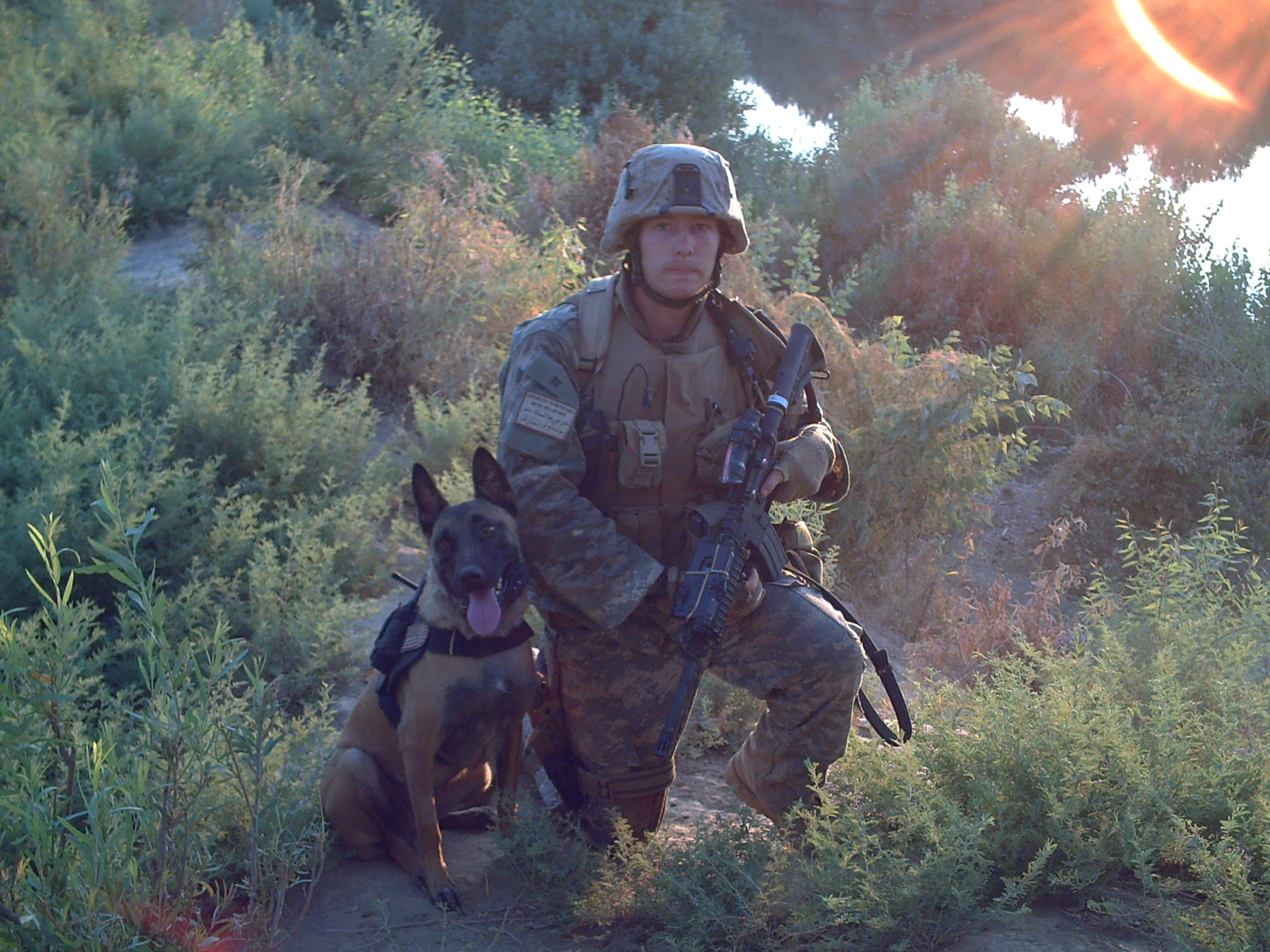 (Written by Joe Lowe, Prince William Living) On a dark February morning in 2004, Christopher Baity was beginning work at Headquarters Marine Corps, Henderson Hall when the provost marshal, the base's head of police, unexpectedly approached him. Baity, who was then working as a Marine Corps MWD handler, took a breath as the purpose of the visit became clear; the provost marshal wanted to know if he would go to Iraq on a combat mission. Baity pondered the question briefly before making his decision. He would go.
The decision put him on a dangerous path. He went on to serve on six overseas deployments to include four combat deployments in the Middle East, where, among other things, he used dogs to search for enemy bombs and other explosives. And when he returned home, he faced bouts of post-traumatic stress disorder (PTSD). But Baity has no regrets. The decision he made that winter morning led to what he believes is his true calling, Semper K9 Assistance Dogs
A Mission to Giving Back
Driven by a desire to give back to America's post 9/11 veterans, Baity and his wife Amanda founded Semper K9 in 2014. The nonprofit seeks to heal the wounds of war by training service dogs to provide physical and emotional support to U.S. Armed Forces veterans and their families.
These dogs enrich and restore lives by assisting their owners with overcoming daily challenges. The nonprofit gives those veterans with physical impairments dogs who can assist them with three or more duties to improve their health and mobility. Others affected by PTSD or related mental health difficulties benefit from dogs that help them recover emotionally and remain calm throughout painful times.
Working with dogs comes easily to Baity. He grew up in a family who raised dogs professionally before beginning his career as a dog handler, which he has been doing for over 15 years. He puts his knowledge to use on a rented property in eastern Prince William County, where he lives with Amanda and their four children. Read more about Chris & Amanda below.
Our Mission
Rescuing Dogs & Veterans
Our mission is to enhance the quality of life for wounded, critically-ill and injured members of the U.S. Armed Forces and their families by providing them assistance dogs. Using rescued and donated dogs we provide service dogs for psychiatric alert and mobility challenges free of charge to wounded service members.
Veterans Helping Veterans
According to the Veterans Administration, 834,463 veterans from OIF/OEF suffer from combat-related PTSD–that's 30%.  Overall there are 10.6 million veterans living with combat-related PTSD.
Every 180 minutes, a Veteran commits suicide. That is an average of 20 lives a day…Every 11 seconds, an animal is euthanized in the US. Semper K9 is helping make a difference in those figures by rescuing dogs from the shelter and training them to be service dogs for wounded service members at no cost. By enhancing the quality of life for service members and their families Semper K9 is able to help them regain confidence and independence.
CLICK HERE to find out more about our programs.
Executive Director & Director of K9 Programs
Christopher Baity is an OIF veteran Marine Corps dog trainer and kennel master with three combat deployments, one civilian deployment and two additional overseas deployments with working dogs. He has over 16 years of dog training and handling experience. Currently a Certified Dog Trainer (CDT), evaluator and service dog instructor, Baity is proficient in animal behavior, obedience training, and kennel management.

Baity was awarded 'Top Dog Award' while attending Military Working Dog Handler's Course at Lackland AFB. He also studied in Israel under the Israeli Defense Force (IDF) Oketz Dog Program with 3 other Marines and 5 SSDs, this was the only class to complete dog training and "Train the Trainer" course. This formal training, along with his combat deployments and civilian K9 career have prepared him for developing and implementing operations at Semper K9 Assistance Dogs. Baity specializes in mobility and psychiatric alert service dogs and enjoys being able to connect with veterans and help them regain confidence and independence.

Baity has recently been awarded Red Bandanna Hero of the Year by American Heroes Channel and a Washingtonian of the Year by Washingtonian Magazine.
Director of Operations
Amanda Causey Baity is currently publisher of American Service Dogs Magazine and Prince William Living's Director of Operations and Photo Editor. She recently took over the role of Media Director for Brides & Weddings of Northern Virginia. An Atlanta native, she has 8 years of print & online media experience. In her early work career, she was Controller for a multi-million dollar corporation in Atlanta as she attended college.

While finishing her degrees in Optometry and Astro-Biology she worked as a family service worker for the Department of Health & Human Services Head Start Program. She is currently an officer on the board of directors for the Northern Virginia Veterans Association and Vice President of Give Back Prince William.

Her family's rich military heritage along with being the spouse of an OEF/OIF Marine Combat Veteran make her a perfect advocate for veteran rights. Amanda is currently continuing her education with various classes on PTS, TBI and Family Counseling for Military Families. She plans to enroll at Adler University this fall to begin a Masters program in Psychology with specialization in Military Psychology.